Rio+20 "ended here as it began, under a shroud of withering criticism."
Greenpeace called the sequel to the 1992 Earth Summit an epic fail. Unsustainable nonsense.
This photo of an Indian aiming an arrow at security guards in the garden of Brazil's National Bank just might have been the highlight.
Also noteworthy:  Rio correspondent Taylor Barnes' coverage of the green(washed) state of Brazil.
First item: The rainforest.
Despite the presence of Greenpeace reps on city sidewalks across America –  Do you care about saving the environment? "No, thank you" – Brazil is still cutting down the Amazonian rainforest. In 2012.
Illegal deforestation peaked in 2003, but things might be picking back up, Barnes writes In Brazil, a Showdown over Rainforest Deforestation for Christian Science Monitor.
Panda protest in Ipanema.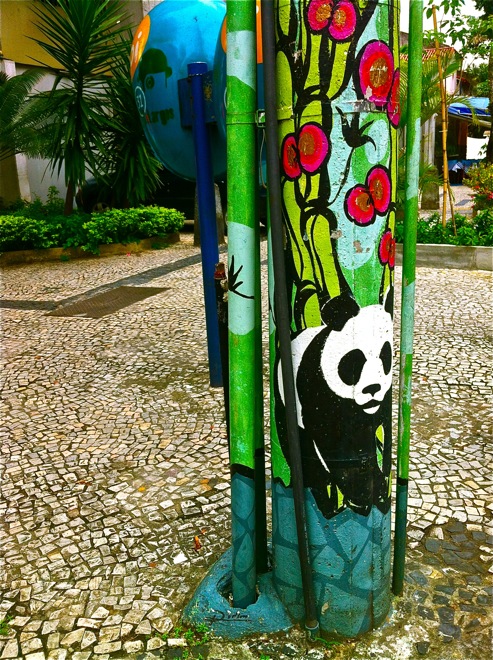 That's not the only showdown in the Amazon.
There's also hydroelectric dam of epic proportions that mining megalith Vale and state-run electricity company Eletrobras joined forces to build. (Not to be confused with that other big dam in the Amazon where 17,000 workers went on strike in April).
Belo Monte is going to be big - Three Gorges big – and it's going to be bad for the natives. But if supermodel Gisele's heartfelt protests couldn't stop them, nothing will.
Which might explain why Vale and Eletrobras each ponied up $10 million to sponsor Rio+20.
So did Petrobras, the fourth largest company in the world that just discovered the third largest oil field in the world, which will mean lots of money if they can just drill deep enough.
Taylor Barnes follows the money in An Earth Summit Draws on Oil Mining and Utility Largess for The New York Times.
Petrobras' retro-industrial headquarters in downtown Rio.
Petrobras " is investing by some estimates more in inflation-adjusted terms than NASA did in the 1960s to put a man on the moon, to produce oil from reserves found under miles of water, rock, sand and salt," writes Simon Romero in Brazil, Where Oil and Woman Mix Powerfully, also for The New York Times.
Fun fact: Petrobras is run by a woman, which makes President Dilma happy, because Dilma appointed her. She lives in Copacabana and does not own a car.
A street-level view of  what green looks like in Rio.
Beach-front recycling: room for improvement.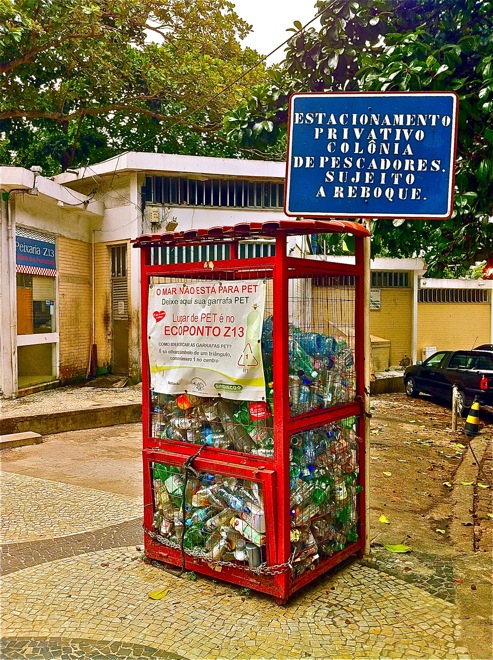 The Copacabana Trash-O-Meter. No idea who supplies the data.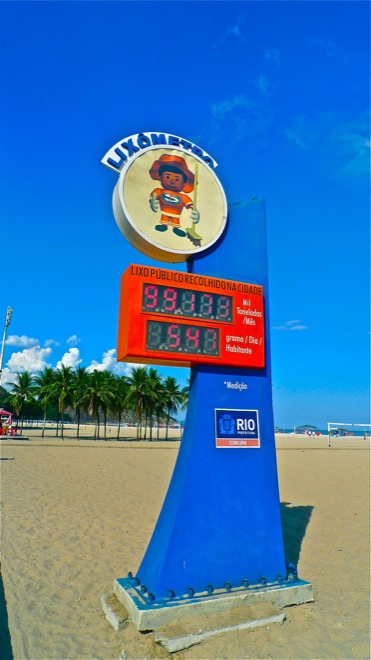 A gari, or worker for Rio's Urban Cleaning Department (COMLURB) rocking out on his broomstick air guitar in this PSA in Ipanema for January's Rock in Rio concert.
"At Rock in Rio, get an attitude / Throw your trash in the right trash."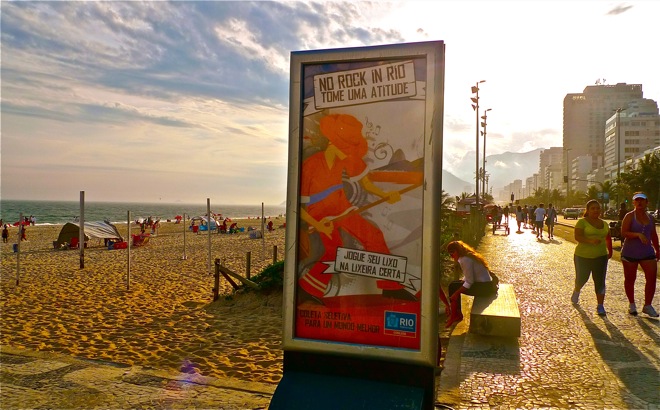 Sunset finds Rio's beaches covered in a layer of litter and coconuts until the COMLURB garis roll through on the night shift and literally rake the beach.
COMLURB workers are called garis. They wear iconic raver orange jumpsuits.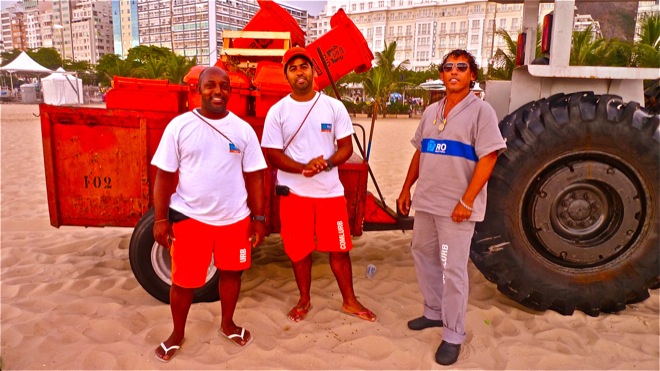 Some locals justify the litter to keep the garis in business, and some of them are serious.
Which is part of why a collective called Rio Eu Amo Eu Cuido (Rio I Love You, I Take Care of You) started a 50,000-strong popular movement to shift the trash culture.
"Small gestures make a big difference."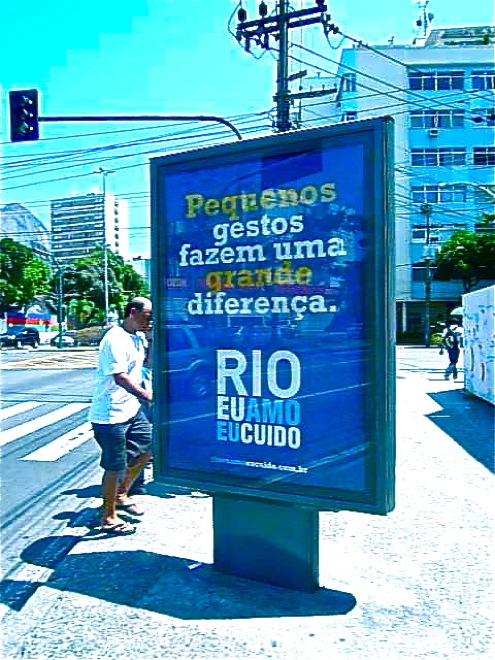 Rodrigo Rosa is Special Advisor to Mayor Paes for Rio+20 and environmental issues. He also volunteers for Rio Eu Amo Eu Cuido.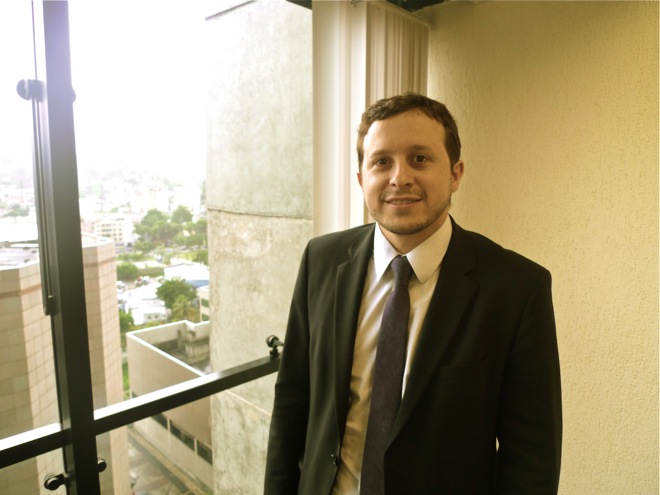 Rio just became a UNESCO World Heritage Site. The special status extends to the Christ Redeemer statue, also one of the seven wonders of the world, visible in the background behind the Lagoon.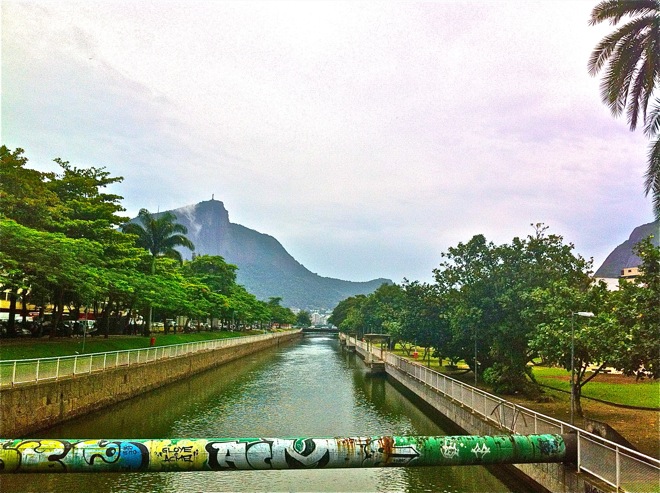 The lagoon is also green, but it's not supposed to be, so billionaire Eike Batista (no longer the 7th richest man in the world) is helping finance a clean-up of the lagoon in time for World Cup.
No such luck in Asa Branca, a favela where trash clogs the river perimeter. Asa Branca, conveniently located near the Olympics site, is now facing eviction or public works bureaucracy – nobody can decide which is worse.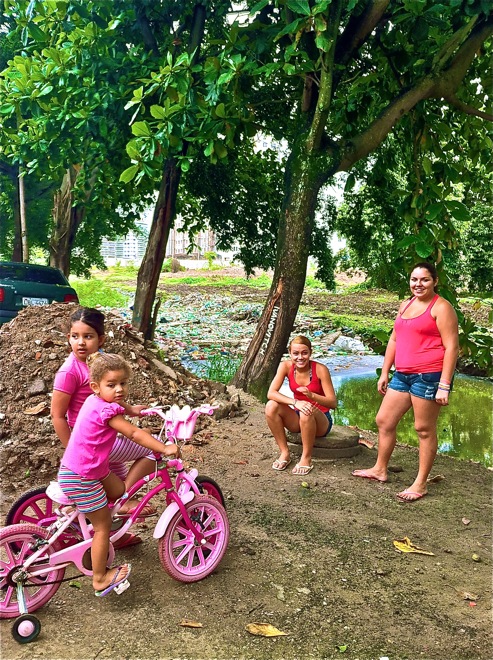 Back in Ipanema, sidewalk sunflowers.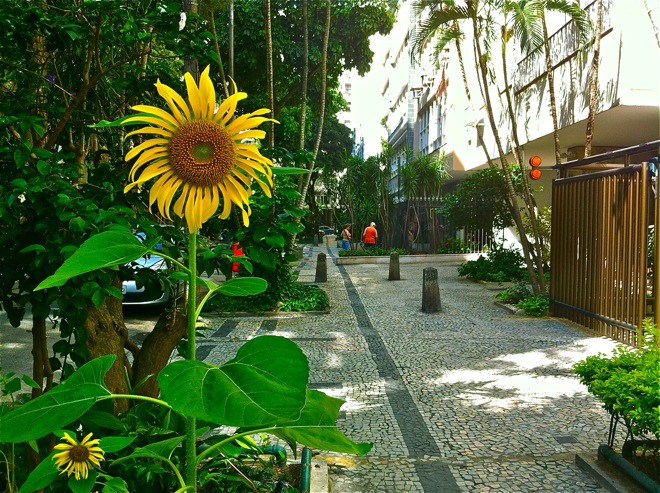 Also, bike sharing.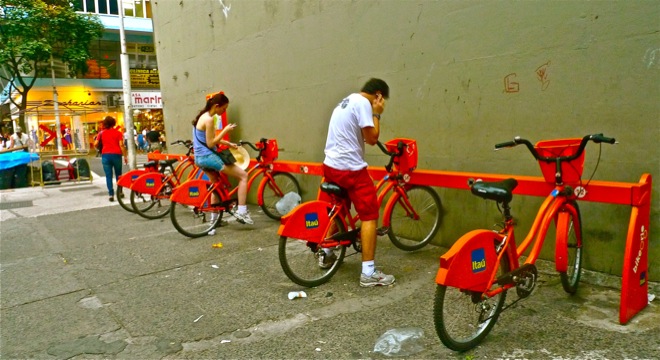 Locals can rent Itau-sponsored orange bikes (first hour free!) if you can navigate through the eternal sign up process online. Then, there's a 50-50 chance the bikes are rented out won't unlock from the station. Brazil is not for beginners. 
But it's getting pretty cosy for Californians.
The Whole Foods crowd can find their people at New Natural in Ipanema. Cold, hot, vegan and sushi buffets by the kilo, a fresh juice bar, oats, seeds, flax, $10 quarts of soy milk, and amazing brownies.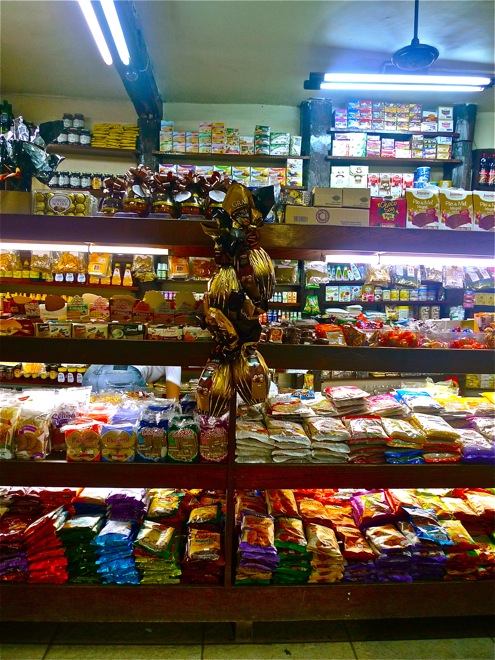 If you are San Francisco levels of green, check out Desapegue-se, a monthly swap meet in Grajau where people bring stuff they are ready to let go of and give it away, often for a hug.
This is also the spot if you are into organic cooperatives, permaculture, circular dance, poetry readings and solar baking ovens.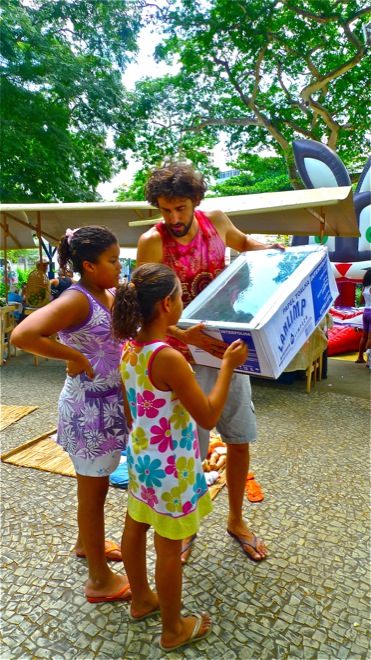 Peppers on parade at a farmer's market in Ipanema.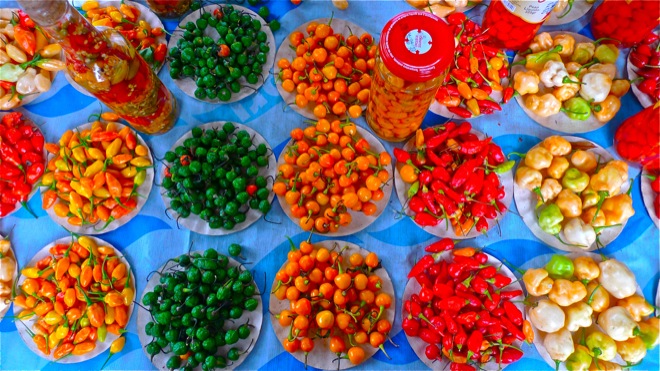 Buy local at the organic farmer's market in Copacabana's Bairro Peixoto on Saturdays.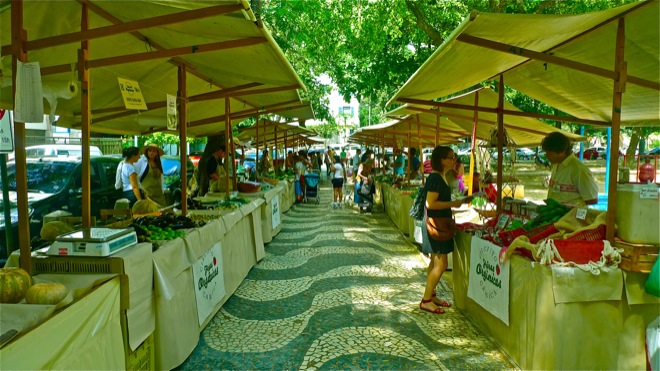 Nicole and Mark at Sitio Quaresmeiras were some of the first organic farmers on the scene 17 years ago.
They grew 12 tons of organic guavas last year on their farm north of Rio. Guavas need to be hand-wrapped in plastic to keep bugs away without using pesticides. Wow.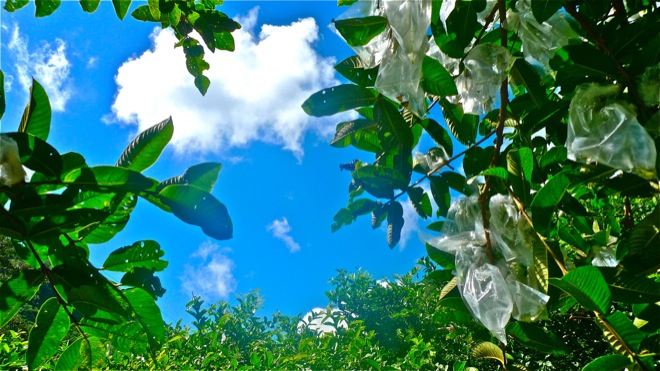 Biribiski guards the Sweet House, where employees – with full benefits – turn guavas into magic in spreadable and cookie forms.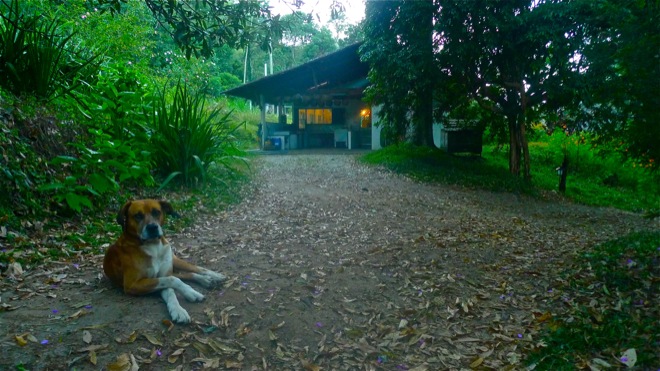 Farmer's markets in Rio have a bad reputation for the xepa, or mess, they leave behind, which is why it took years for Rio's organic farmers to get proper permitting from the city for the organic farmer's markets. Thank you Mayor Paes.
Xepa, conveniently, is also slang for the girl you pick up at the club at the end of the night.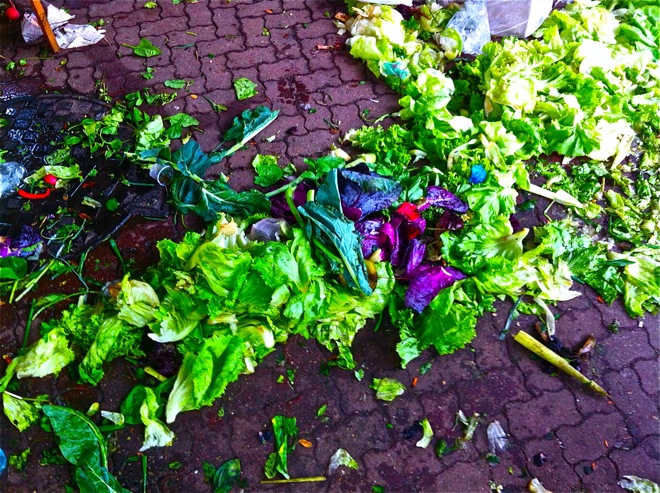 Electric green lights up the trees along the Lagoon behind Ipanema.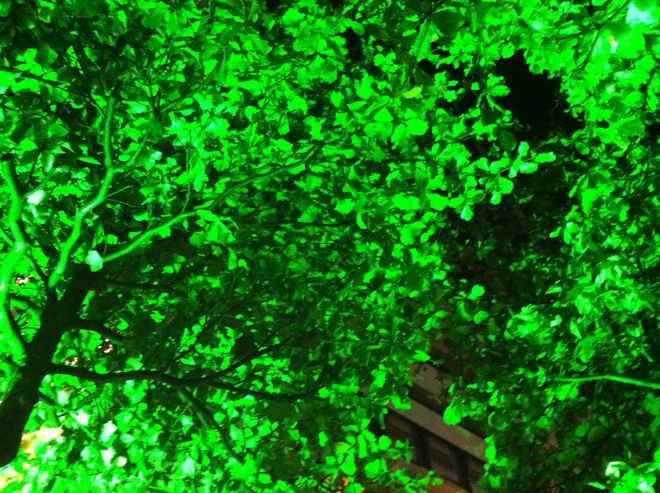 Look up.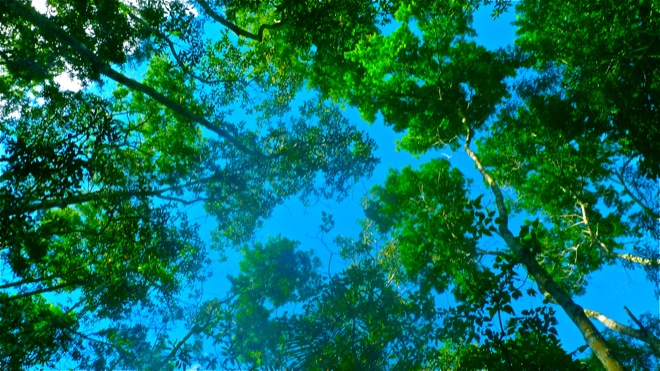 Original photography by Julie Ruvolo.
Click here to sign up for RioChromatic and get the next post in your inbox.
Read more: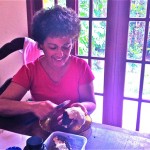 Organic eviction-farming in the Vila Autodromo favela and future Olympics site. Read This is Not a Favela in RioChromatic.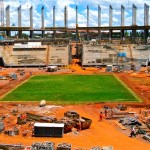 Construction delays and corruption charges be damned – if Ian McKee and Vicente Mello have their way, this will be the greenest soccer stadium on the planet next year. Read Chasing Green in RioChromatic.